Kendall Jenner made a grand entrance at the 2023 Met Gala, donning a statement-making black Marc Jacobs bodysuit covered in sequins. The outfit featured extra-long sleeves with white quilted lining that trailed behind her like a split cape as she made her way up the Metropolitan Museum of Art's famous carpeted steps for the annual Costume Institute Benefit. The model complemented the look with lace-up platform boots that coordinated with her black bodysuit, glittering earrings by Lorraine Schwartz Jewelry, a high ponytail, and sheer Wolford tights.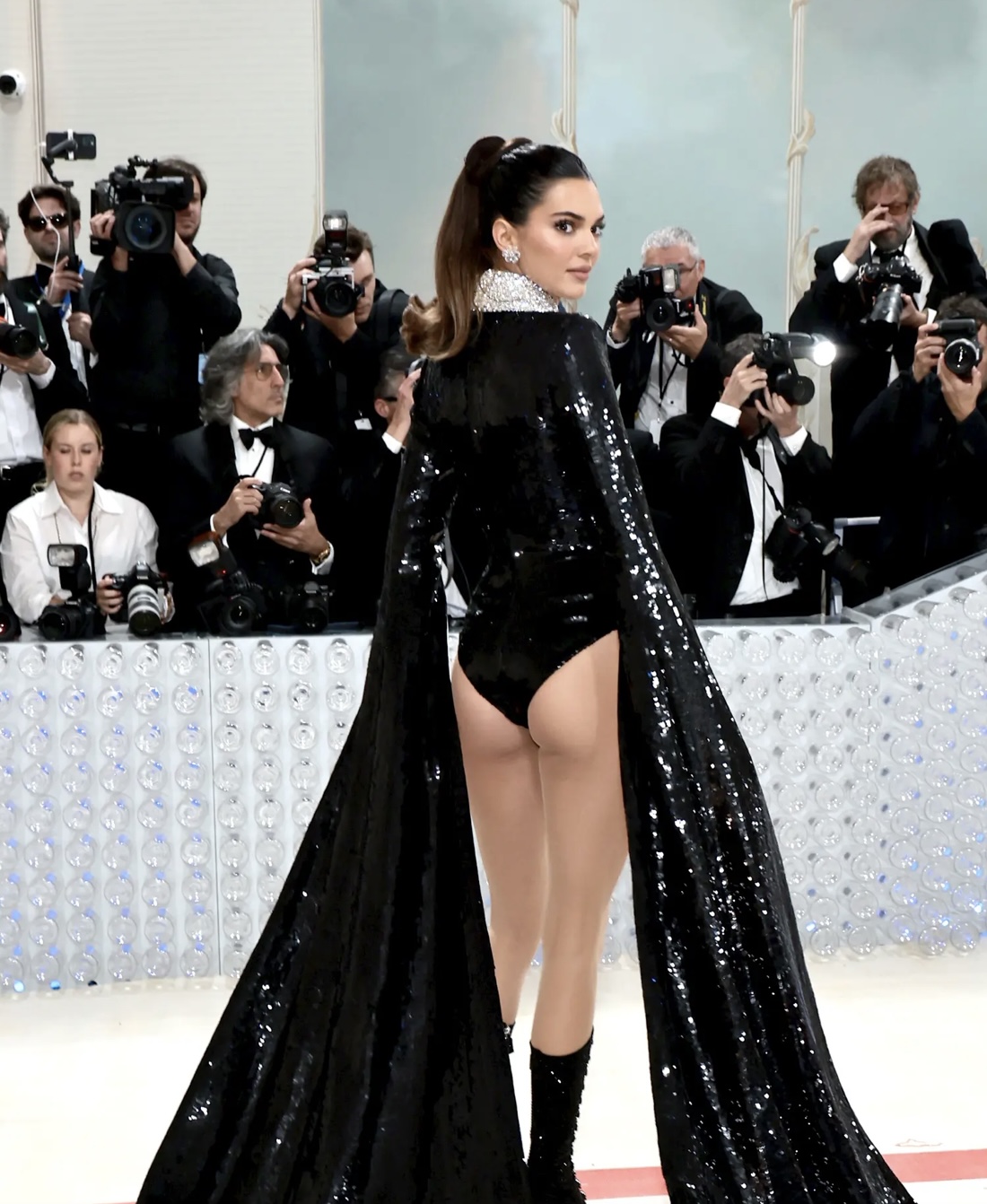 Jenner has been teasing a major fashion moment throughout the week leading up to the event with a string of sightings around New York City. On April 29th, she attended a Karl Lagerfeld retrospective event hosted by the luxury boutique What Goes Around Comes Around in a semi-sheer, cobalt couture gown by Alexandre Vauthier. The next evening, she was spotted leaving a date with Bad Bunny wearing a Paloma Wool top, Blumarine skirt, and Blumarine boots.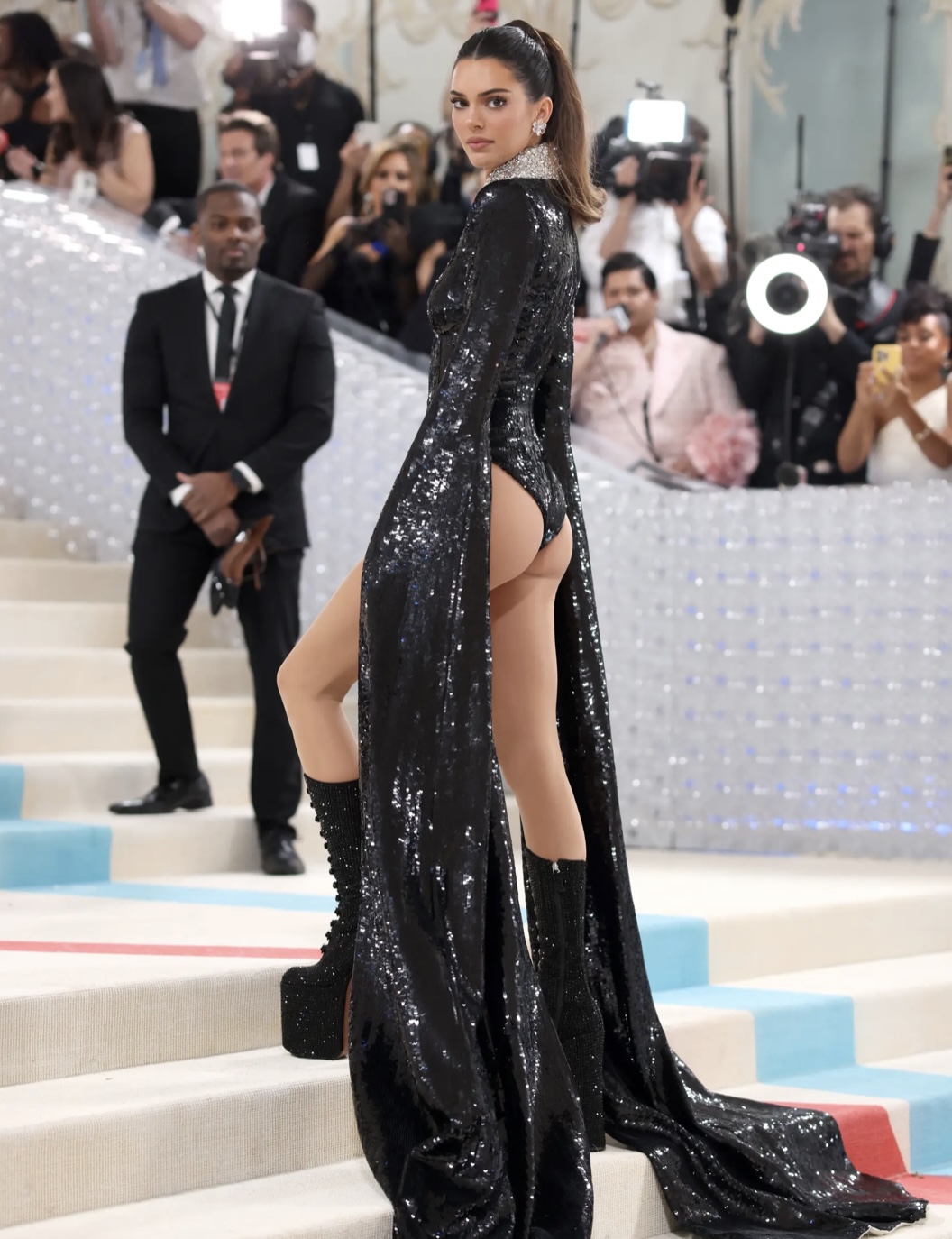 The dress code for this year's Met Gala was in honor of the late Karl Lagerfeld, who had cast Jenner in some of her first fashion shows. Jenner reflected on her gratitude to Lagerfeld, saying, "It's a little emotional. I owe a lot to [Lagerfeld] and what he did for me. I started working with him when I was really young and really new, and he really embraced me."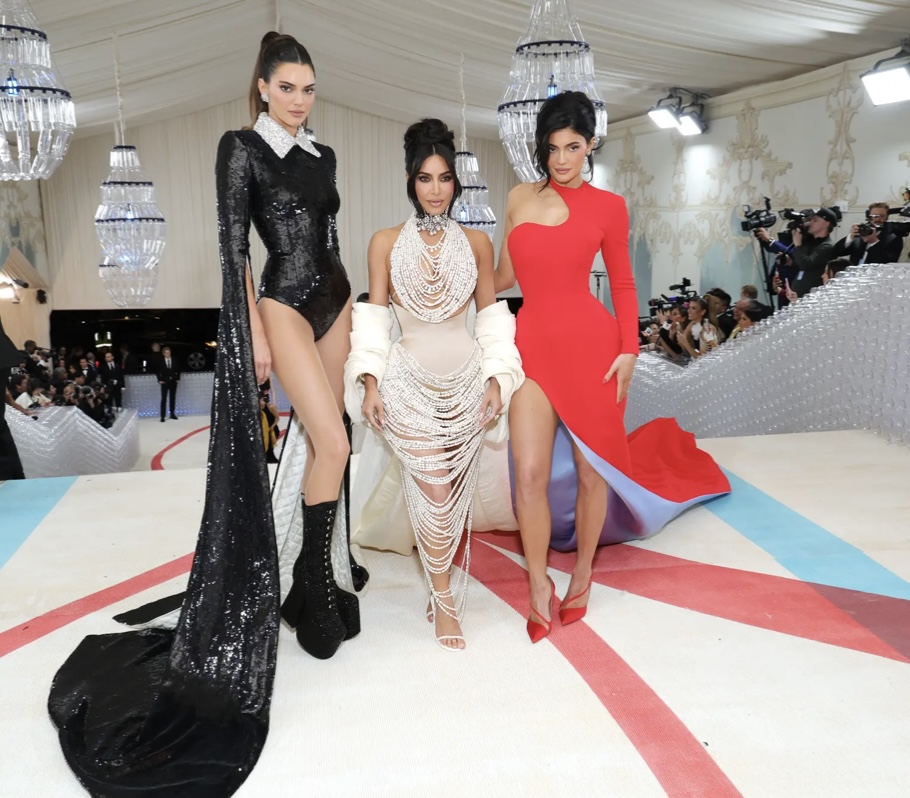 This year's Met Gala outfit is not the first time Jenner has made waves at the annual event. For the 2022 "Gilded Glamour" theme, she wore a Prada set that featured a sheer black top and a voluminous black skirt covered in cascading ruffle details. Her beauty look, featuring a stark middle part for her hair and bleached eyebrows, was one of the biggest risks of the evening.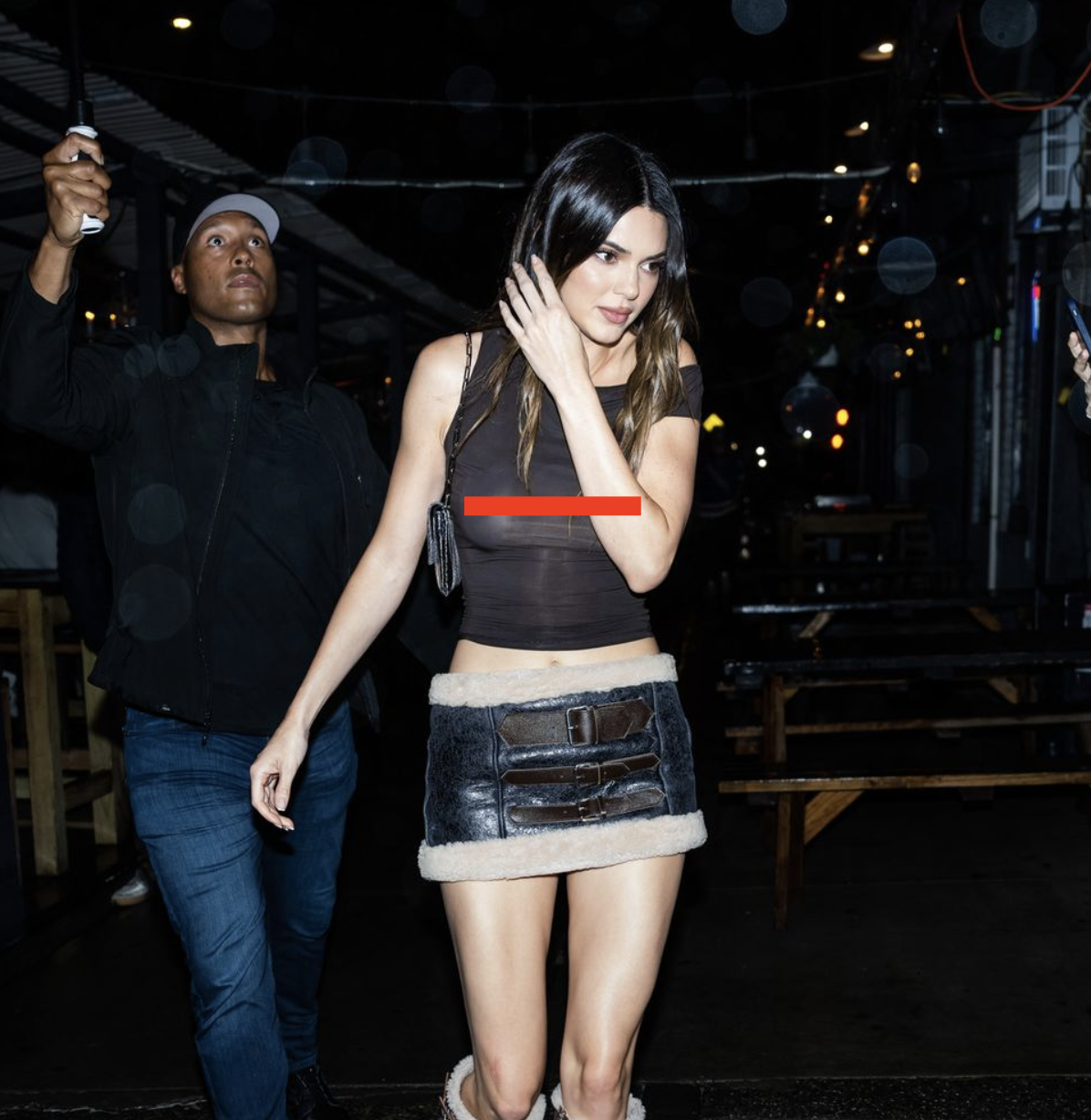 Jenner's Met Gala appearances have become something of a tradition, with the model attending both the main event and the various after-parties. In previous years, she has changed into even more notable evening looks for the occasion.
Kendall Jenner's fashion choices have been the topic of conversation for years, and she continues to prove herself as a trendsetter with each new appearance. Her style is often edgy and bold, with an emphasis on statement-making pieces that turn heads.
Jenner's fashion sense has not gone unnoticed in the industry, with numerous fashion houses tapping her as a muse for their designs. She has worked with the likes of Givenchy, Fendi, and Calvin Klein, and has walked in countless fashion shows around the world.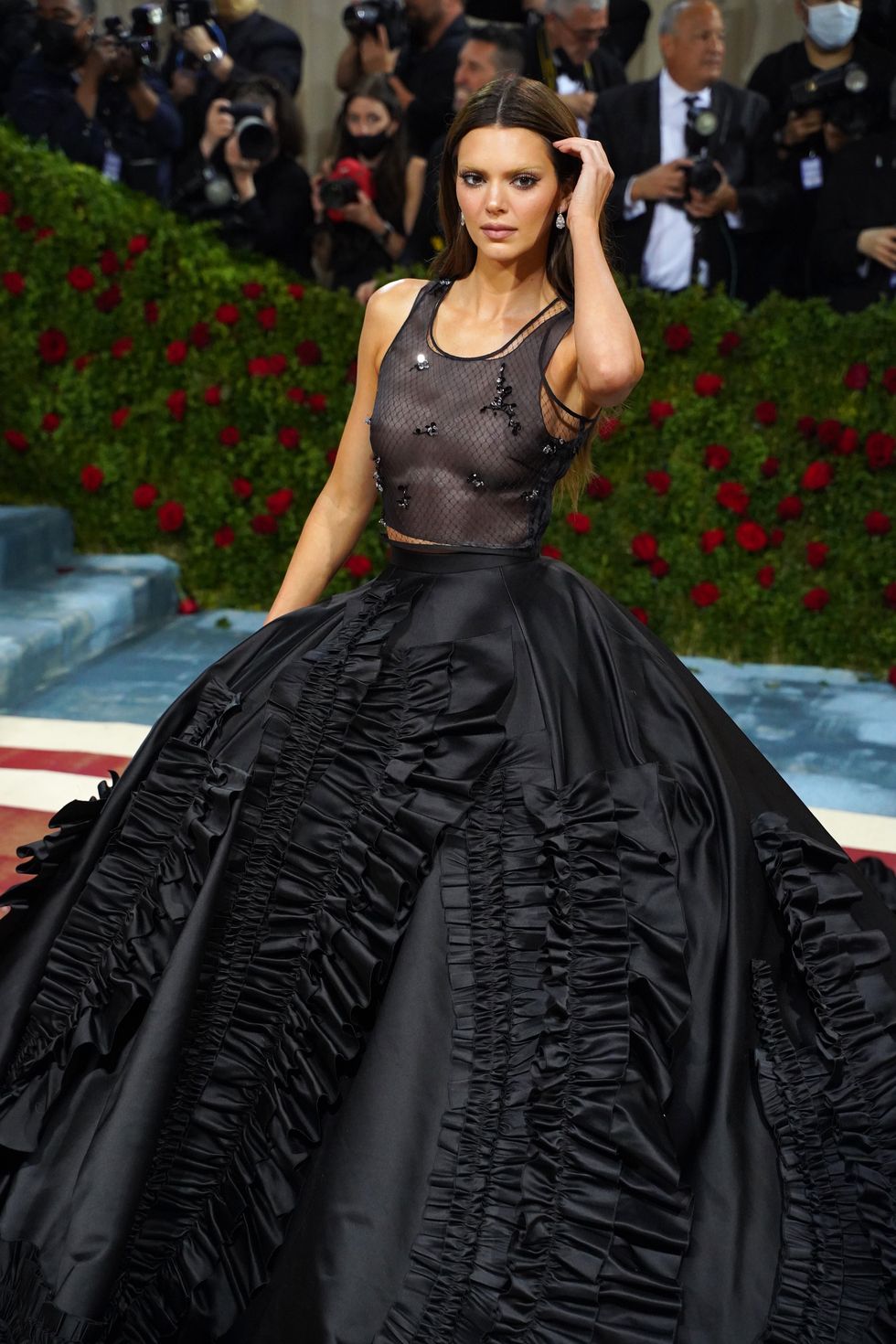 In addition to her modeling career, Jenner has also made a name for herself in the business world. She launched her own tequila brand, 818, in 2021, which has since become incredibly popular among tequila enthusiasts. The brand's success is a testament to Jenner's business savvy and her ability to connect with her audience.
Jenner's success can be attributed to her hard work and dedication, as well as her natural talent for modeling and business. Her fashion choices continue to be a source of inspiration for many, and it's clear that she is not slowing down any time soon.
In conclusion, Kendall Jenner's recent appearance at the 2023 Met Gala in a sequin-covered Marc Jacobs bodysuit is the latest in a string of bold fashion statements. Her ability to turn heads with her fashion choices has made her a muse for numerous fashion houses, and her business acumen has made her a successful entrepreneur. With each new appearance, Jenner proves that she is a force to be reckoned with in the fashion industry.